Partner Profiles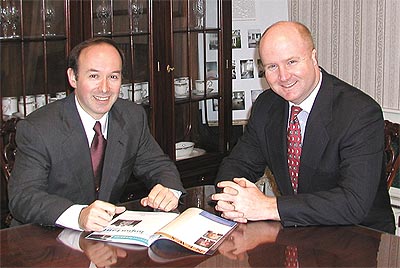 Neil Schembre, CPA | John Gannon, CPA

Neil Schembre, CPA
Managing Partner
Neil@sg-cpas.com
Practice Areas
Individual Income Tax Planning and Preparation
Corporate, Partnership and LLC Income Tax Planning and Preparation
Trusts & Estates
Management Consulting
Education and CPA Licenses
B.A. Gettysburg College, 1982
MBA, Rutgers University
Certified Public Accountant in State of New Jersey
Certified Instructor for Tax and Accounting Section of CFP Program
Biographical Information
Neil has been in the tax preparation business for over thirty years, starting out with H & R Block in 1983. Since then, he has worked for the Internal Revenue Service as a revenue agent, KPMG LLC as a tax reviewer, and several medium-sized accounting firms before going out on his own in September, 1995. Since that time, the business has grown from a handful of clients to over 1,000 individual clients and 200 businesses. His staff includes a CPA who specializes in corporate accounting and several clerical staff personnel. Neil specializes in preparing personal income taxes and helping self-employed individuals. He provides each client with a personalized well-developed tax plan for the future and puts a premium on saving taxes by strategically finding deductions and choosing the right business entity.

John Gannon, CPA
Partner
John@sg-cpas.com
Practice Areas
Individual Income Tax Planning and Preparation
Corporate, Partnership and LLC Income Tax Planning and Preparation
Personal Financial Planning, Wealth Management
Real Estate Investments
Trusts & Estates
Education and CPA Licenses
B.S. Accounting, Albright College, 1991
Certified Public Accountant in State of New Jersey
Biographical Information
John Gannon is a partner at Schembre & Gannon, LLC with more than twenty five years experience in accounting, tax, business and financial planning. He is a Certified Public Accountant in New Jersey and is a member of the New Jersey Society of Certified Public Accountants and the American Institute of Certified Public Accountants.
John's experience includes managing all aspects of the client relationship and assisting individuals, businesses and not-for-profit entities improve their efficiency and profitability through hands on consulting, minimizing taxes and managing cash flows.
John is also active in the community where he is a volunteer with the Big Brothers Big Sisters of America, Ridge Youth Sports, Jr. Red Devils Football Club and the Internal Revenue Services' Volunteer Income Tax Assistance program that assists the elderly and lower income taxpayers.
John resides in Basking Ridge with his wife and two children.